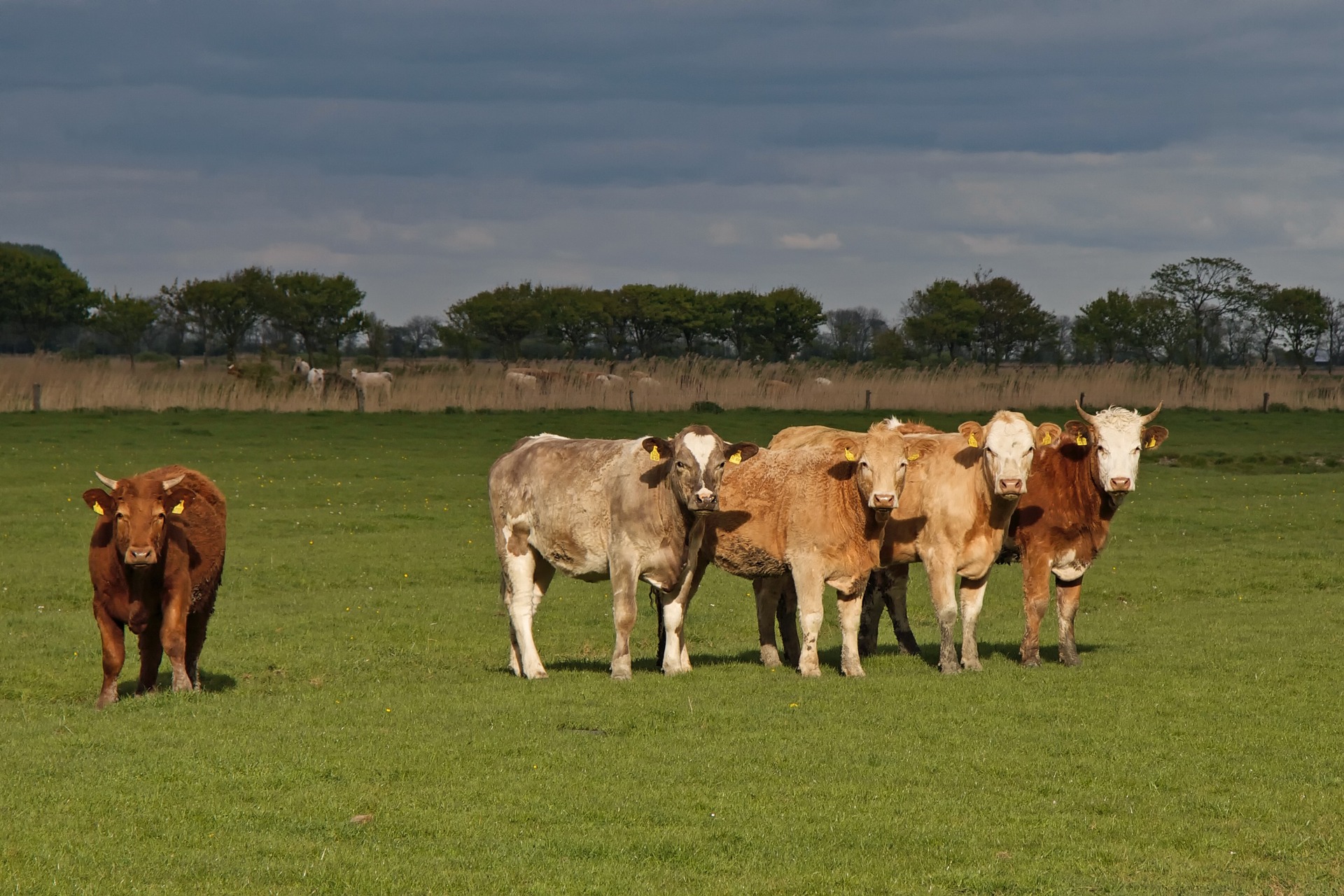 Are you interested in working with beef cattle?  The beef industry values hands-on experience, and internships can be a great way to learn practical skills.  Here are 15 of our favorite beef cattle internships (listed alphabetically):
The American Angus Association, the largest beef breed organization in the United States, offers three different internships for college students each summer.  The events and education department internship involves assisting with preparation and on-site management of youth shows and events.  The communications department of Angus Media offers an internship centered on writing, editing, graphic design, photography, and social media.  The Angus Journal editorial team offers an internship for juniors and seniors only, which involves writing for multiple publications and websites.  The ten week internships are paid opportunities, with applications due in early February.
The American Hereford Association offers several summer internships and mini internships in Kansas City, Missouri.  Hereford Publications Inc, a division of the AHA, offers a summer communications internship that focuses on writing, photography, editing, and special projects.  The junior activities department offers an internship involving public relations and event planning for junior show events.  These summer internships generally run from mid-May to mid-August, and applications are due in Fenruary.  There is also an ambassador program (mini internship) that runs for two weeks at the National Junior Hereford Expo, for those who are not able to commit to a full summer internship.
The American Simmental Association offers a summer youth activities internship for college juniors and seniors majoring in any agriculture related field.  The ASA internship runs from late April to early August.  Duties include planning several livestock shows, attending industry events, writing articles, and other responsibilities as assigned.  Compensation includes a weekly stipend plus travel expenses.  Applications are due in early February.
The Angus Foundation's Talon Youth Education Program Learning Internship pairs interns with working breeders and ranches.  This is a new internship program with the first interns in the summer of 2017 (applications are due quite early for this opportunity—the 2017 summer internship applications were due in September 2016 so plan ahead if you are interested in this one!).  Internships run from mid-May to mid-August.  Applicants must be college sophomores, juniors, seniors, graduate students, or recent college graduates in an agricultural field of study.  They must also be members of either the American Angus Association or the National Junior Angus Association.
Cargill offers a wide range of 12 week summer internship opportunities (and semester long co-op programs) in several states.  Some of the options include beef procurement internships, cattle feeder internships, and ruminant sales internships.  Candidates for most internships should be sophomore or junior college students majoring in an agriculture related field.  Some internships require prior beef cattle experience.
Gardiner Angus Ranch offers 10 week internships in the spring and fall at their ranch in Kansas.  The internship is designed for junior or senior students from land-grant agricultural universities with an interest in beef cattle genetics, nutrition, health, marketing, or reproductive management.  The spring internship (late January through May) focuses on sale cattle preparation, the artificial insemination program, pregnancy checks, and sales catalog duties.  The fall internship (late August to late November) focuses on calving, beginning the artificial insemination season, some sales preparation, and vaccination of calves. Interns receive free housing on the ranch plus a $2,000 stipend upon completion of the internship.
The IX Ranch Company offers internships on their 120,000 acre cow-calf operation in Montana.  The company produces more than 3,000 calves each year.  There are four internship sessions, each lasting three months.  Spring interns (March to May) focus on calving, with additional duties related to herd health and facility maintenance.  Summer interns (June to August) focus on forage preparation, harvesting alfalfa, grass, and straw.  Fall interns (September to November) focus on calf weaning, shipping, and pregnancy testing.  Winter interns (December to February) focus on feeding and preparing bred cows for calving.  Horseback riding, roping, and various health management duties may be required of all interns.
The Lone Creek Cattle Company (in Nebraska) offers paid internship opportunities focused on beef sales, ranch management, and calving.  Specific duties vary by position but often involve direct handling of cattle and marketing/sales duties.  Interns receive housing, utilities, and a stipend.
The Ohio Cattlemen's Association offers many internship opportunities in areas such as public relations, industry relations, member services, beef improvement, and youth activities.  Spring semester internships (January to April) require a commitment of 20 hours per week, and interns are compensated with a $1,000 scholarship.  Summer internships are full time (mid May to mid August), and interns are compensated with a $2,000 scholarship.  College credit can also be arranged as a part of the internship.
Ranchlands, a large cattle, bison, and horse ranching company, offers many internships at its six facilities located in South Dakota, Colorado, and New Mexico.  Ranch internships require a minimum six month commitment.  Duties include livestock care, facility maintenance, moving livestock from one pasture to another, assisting with guest programs and events, and other duties as assigned.  Riding skills are necessary, as some work is completed on horseback.  The ranches provide rustic bunk housing, utilities, free use of a vehicle to visit town for supplies, internet access (at most facilities), and a $200 monthly stipend for food.
Select Sires offers twelve week summer internships at company headquarters in Plain City, Ohio.  The summer internship has two different tracks that students interested in beef cattle may choose from: corporate communications or beef sire marketing.  The communications internship involves working on press releases, newsletters, and designing the breeding calendar.  The marketing internship involves photography, videography, and other departmental projects.  Both internships are paid.  Select Sires also offers a variety of dairy related internships.
Sitz Angus Ranch offers a paid summer ranch internship in Montana.  Housing and utilities are also provided.  Interns work in a variety of areas including ranch management, herd management, development, feedlot duties, artificial insemination, records management, and more.  Applications are due Feb 1.
Trans Ova Genetics offers seven summer internship positions each year (six at headquarters in Idaho, one in Texas).  Applicants must have completed their sophomore year in a field such as Animal Science or Biotechnology, and be able to attend the internship from May to late July/early August.  Students have the opportunity to assist with embryo transfers, in vitro fertilization, and various other aspects of reproductive technology in both beef and dairy cattle.  The compensation package includes a weekly stipend, housing, meals and hotel while traveling, coveralls, and overshoes.
The University of Nebraska-Lincoln has offered a nationally recognized Feedyard Management Internship since 1989.  The internship is designed to begin following the spring semester when students complete their undergraduate degree, running from May to December, and includes eight weeks of coursework as well as five more months at a host feedyard gaining practical skills.  Interns achieve their Beef Quality Assurance certification during the program, earn an hourly wage, and may qualify for college credit hours (up to eight for UNL students, and up to two for non-residents).
The U.S. Meat Animal Research Center (USMARC), a division of the U.S. Department of Agriculture, offers a summer research internship for undergraduate students on its 35,000 acre campus in Nebraska.  The facility focuses about 50 percent of its research on beef cattle, so there are multiple beef-related opportunities each year.  The program accepts eight students with each working on a specific research project mentored by a staff scientist.  Areas of study may include genetics, meat safety and quality, nutrition and environmental management, and reproduction.  This is a paid internship (at least $11.30 per hour plus earned leave benefits).  Applicants must have completed their sophomore year before participating in this opportunity; applications are due in early February, with internships running from early June to late July.
Follow Animal Career Expert on Facebook, Twitter, and Pinterest for the latest articles, photos, and news.